Mini Felini cat curls up on an autumn leaf – cute!
It's about that time again to snuggle up, turn into a furry ball and prepare for the longest of naps… Fall! Not sure why they call it that – I hope nobody tripps and falls. Must be because of the falling leaves then – the leave colors are just beautiful! ?
Tiny Felini Cat on Old Yellow Maple Leaf
Felini the Kitty curls up on a yellow ? leaf. Leaves and ground are a bit scruffy, well a bit rough around the edges just like Felini is sometimes. However, there's a purrrfect version too:
Felini Kitty on Perfect Maple Leaf

Let's prepare for a long winter napathon. Wishing all kitty cats a warm home to go to during the cold nights to come ??
Felini Cat on Colorful Autumn Leaves Nest
Just another variant of mini fall kitty that didn't make it to the top of the page:
That's it for today. Let me know your thoughts and suggestions in the comments below. Hope you enjoyed.
A Quick Look Back At The Last Episode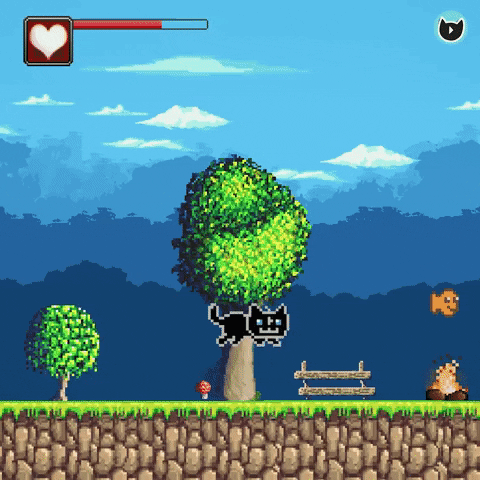 Felini's 'I fix 'em' video was a lot of fun, wasn't it? You have missed it? Go back and watch Felini the Repair Kitty Fix his PC ? Here's some stuff to take home from the kitty gaming experience.
At Felini's cat shop, you can find even more cute kitty merch to be loved.
Give me a Hand
If you feel inspired to send a few bucks for a coffee (I'm addicted) that would mean a lot to me. And if it's a few bucks more it actually helps keeping the show running and getting out those episodes faster. Thank you so much ??
Credits
Because creating those Felini videos means tons of work, every help is very much appreciated. Big thanks and hugs go to Peter Colebatch for the initial modeling & grooming of Felini cat. And Oyvind Nostdal for character rigging. Lot's of pictures of Felini have public domain photos in the background, found on e.g. Pixabay, Unsplash, Pexels, uploaded by unbelievably generous and talented photographers. I also used sound fx from freesound.org and footage from Mitch Martinez. Thank you all so much!!!

The rest is done by me, Til (animator & daddy of 3 awesome girls). I hope you enjoy Felini as much as I do and that he makes you feel joyful and motivated. Furthermore I wish for Felini to one day be able to contribute substantially to making this world a better place…
Love,
Til & Felini
=^..^= ~