Retro gamer Felini cat turns into pc geek – or is he?
Oh noes ? my computer exploded just when I was about to finish this level! No worries – if life gives you lemons, make lemonade! ?
Watch Felini the Kitty "fix" his pc and ace the level in his dreams ??

Ah well, after all Felini is just a cat who loves his naps over everything! Cats do need their sleep and lots of em would probably qualify for a napathon.
Cats & Sleep
Has your kitty ever slept in your computer, on your keyboard or other unusal places? Cats are superheros of sleep! With their super relaxation powers they can pretty much sleep in any place and postion.
Of course most felines know that they have been worshiped as gods in the past, so they appreciate fancy sleeps like this cat bed.

However if you are the DIY type, there are tons of ideas like this one to create funny cat beds that get appreciated by your kitty:
Felini's 'I fix 'em' video was a lot of fun, wasn't it? Here's some stuff to take home from the kitty gaming experience.
At Felini's cat shop, you can find even more cute kitty merch to be loved.
8 Bit Kitty Gaming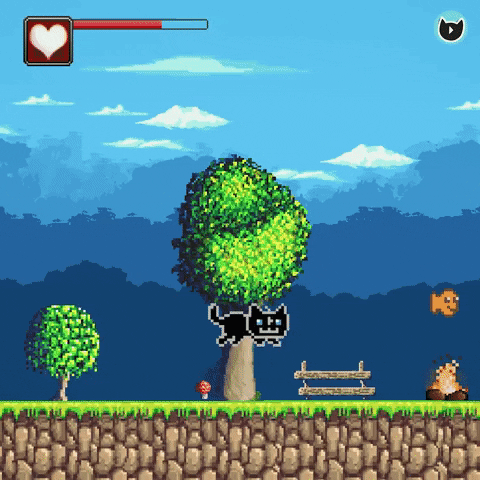 Would it not be totally awesome if there was a pixel cat game like that with Felini? I would love that – well maybe someday if there's enough resources it might be possible.
Give me a Hand
If you feel inspired to send a few bucks for a coffee (I'm addicted) that would mean a lot to me. And if it's a few bucks more it actually helps keeping the show running and getting out those episodes faster. Thank you so much ??
Credits
Because creating those Felini videos means tons of work, every help is very much appreciated. Big thanks and hugs go to Peter Colebatch for the initial modeling & grooming of Felini cat. And Oyvind Nostdal for character rigging. Lot's of pictures of Felini have public domain photos in the background, found on e.g. Pixabay, Unsplash, Pexels, uploaded by unbelievably generous and talented photographers. I also used sound fx from freesound.org and footage from Mitch Martinez. Thank you all so much!!!

The rest is done by me, Til (animator & daddy of 3 awesome girls). I hope you enjoy Felini as much as I do and that he makes you feel joyful and motivated. Furthermore I wish for Felini to one day be able to contribute substantially to making this world a better place…
Love,
Til & Felini
=^..^= ~